Gifts of a Ghost:

'But there is something you could do for me', said Nick excitedly. 'Harry - would I be asking too much- but, no, you wouldn't want-'
'What is it?' said Harry.
'Well, this Hallowe'en will be my five hundredth deathday,' said Nearly Headless Nick, drawing himself up and looking dignified.
'Oh,' said Harry, not sure whether he should look sorry or happy about this. 'Right.'
'I'm holding a party down in one of the roomier dungeons. Friends will be coming from all over the country. It would be such an honour if you would attend. Mr Weasley. and Miss Granger would be most welcome too, of course - but I dare say you'd rather go to the school feast?' He watched Harry on tenterhooks.
'No,' said Harry quickly, 'I'll come -'
'My dear boy! Harry Potter at my Deathday Party! And,' he hesitated, looking excited, 'do you think you could possibly mention to Sir Patrick how very frightening and impressive you find me?'
'Of - of course,' said Harry.
Nearly Headless Nick beamed at him.
Going to a Deathday Party, as a living, breathing, being is a rare thing, but doing so will honour the host ghost immensely. You'd be missing out on that scrum-diddly-umptious Halloween feast: so it'd only be fair that you would get a gift in return, even if this is, at it's core, a sombre occasion. Yet it would be unjust if just turning up got you the gift (this isn't like muggle birthdays where you get a goodie bag), and even more so if the burden fell onto the deathday man himself to hand out a present to each and every party goer. No, it makes much more sense for each house to get a little present...and to earn it. Turning up will only get you so far after all.
With the other three house ghosts in attendance to Sir Nick's Deathday Party (yes, even the Bloody Baron - though even at a party he's generally given a wide berth), and willing to help their house earn a gift, it'll be easy to help your house achieve it's little gift. Unfortunately these gifts will take a little bit of effort to unwrap, and to transform from such sombre monochrome. 4 houses. 4 house ghosts. 4 steps to earn the prize. Simple. Now gaze just below these scribbled words and see what stages your house gift is in: start [1], coloured [2], engulfed with house spirit [3], opened [4], or fully unwrapped [5]. :3

...

...

...

Gryffindor [5]
//
Hufflepuff [5]
//
Ravenclaw [1]
//
Slytherin [3]
How it works:
* To 'unlock' the next stage members of a house must complete a requirement listed below.
* Houses can complete the requirements out of order, but a fulfilled requirement won't unlock a stage unless all previous stages are unlocked.
* Each stage is based on the qualities of a house i.e. Ravenclaw intellect.
* If a requirement requires a answer, please post it in a spoiler, and state that's what in the spoiler (then others can work it out too).
* You may discuss what the answer(s) for your house could be the thread.
* If you know another house's answer(s), you may help them (but don't spoil it).
* If all stages aren't completed by the end of the party, then that house's present will remain in the most unlocked stage. (=[)
* All previous stages will be contained at the bottom of the post, in case anyone wants them.
* You may use the internet to help, if you like. :]
So take heed, as the four house ghosts tell you all you need to know...
Requirement 1:Sir Nick's Challenge
Gryffindor [x]
//
Hufflepuff [x]
//
Ravenclaw [_]
//
Slytherin [x]
Requirement 2: The Grey Lady's Anagrams
Gryffindor [x]
//
Hufflepuff [x]
//
Ravenclaw [_]
//
Slytherin [x]
Requirement 3: The Fat Friar's Search
Gryffindor [x]
//
Hufflepuff [x]
//
Ravenclaw [_]
//
Slytherin [_]
Requirement 4: The Bloody Baron's Riddles
Gryffindor [x]
//
Hufflepuff [x]
//
Ravenclaw [_]
//
Slytherin [x]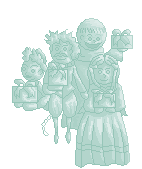 'Good luck. <3'
Images of previous stages: