GIMP Tutorial 1: Simple Blending
Hey there everyone! I decided to go with this topic as the first tutorial because you're going to be doing it a lot when making signatures. I've gotten some comments on how good my blending has gotten, but in reality, I've turned it into such a simple task that it doesn't deserve any praise compared to those that are much more intricate with their blending. :I This is what has gotten the job done for me over the years though, so I hope that you guys will be able to use it!
Alrighty, so the first thing that we want to look at when making signatures is blending two images together. There are more advanced methods of doing this, but I like keeping things simple so I don't have much to fix if I mess up.
After you've opened up GIMP and made a new document (mine is the PFF standard of 400 x 150), you want to open up your two or more images By going to "Files ---> Open as Layers".
Using the "Open as Layers" option saves you the time spent on opening it up as it's own seperate file, copying, and pasting it as a new layer.
The ones that I will be using in this tutorial will be these two (put in spoiler for size):
A couple of minutes of tinkering and resizing with the wonderful
Scale Tool
, I've got my images placed where I want them on two separate layers, but they don't look too spiffy right now.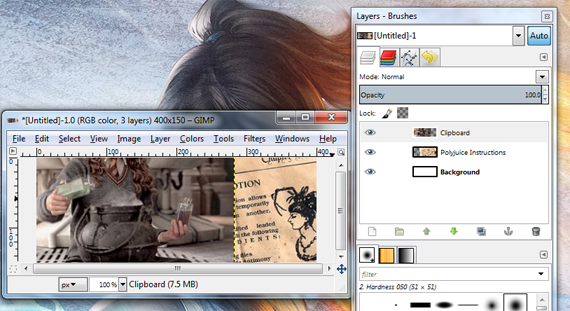 That's when you take your handy dandy eraser tool. Notice how down at the bottom of the toolbox the opacity of the eraser is turned down to 40? You can adjust the opacity of your eraser to whatever you like - even to 100 if you wish - but between 20% and 40% opacity is my favorite for blending. I like whenever it kind of fades into each other, but it's all based on your preference!

Now you just start erasing away at the layer that is on top - in my case, the picture of Hermione is the one that is the top layer. Here is what my blending looked like after I was satisfied. It was quick and simple, not even five minutes taken. In fact, I spent more time adjusting where I wanted the picture of Hermione to be.
I didn't like how different in color the two images are in comparison, and I also didn't like how dark the overall image is - so I'm going to lighten it up a little bit. Using my
Color Picker Tool
, I picked a color around the dark edges of the Polyjuice Potion instructions image and got this really nice brown. Then I made a new layer and labeled it "Brown Color Fill". I used the
Bucket Fill Tool
and splashed the whole layer with the brown.
Then I played around with the layer options. After a couple of minutes of experimenting, I ended up really liking how light and simple the signature looked with "Addition" set to 60% opacity.
I threw some text on it and presto - a simple yet elegant signature was blended.

Alrighty everyone, now it's your turn to try it out - and don't forget to post your results!