Here we can post our favourites and latest doodles that appears in the Google home page. Many doodles are specifics for some countries (for example Thanksgiving ones, or the ones dedicated to the Indipendence days of different countries).
Today is the 200th Anniversary of the Grimm fairy tales book.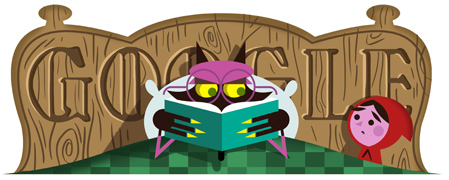 Two days ago, it was the 120th Anniversary of the Nutcracker Ballet.
These are a couple of my favourite ones:
Charles Dickens' 200th Birthday
Federico Fellini 92th Birthday (it's showed only on Italian's page)
Mary Blair's 100th Birthday
Anniversary of Ice Cream Sundae
Robert Luis Stevenson's 160th Birthday