Search found 39 matches
November 20th, 2017, 10:09 am
Forum: Pottermore
Replies: 16
Views: 1979
I still have my old account from the first Pottermore where I'm was sorted into Gryffindor, Horned Serpent, with a Red Squirrel patronus, and a 10 3/4 inch Hard, Ash/Unicorn Hair wand. When Pottermore reopened I opened a second account and was sorted into Ravenclaw, Thunderbird, with a Falcon patron...
November 20th, 2017, 9:52 am
Topic: Introdiction
Replies: 4
Views: 1216
January 5th, 2017, 8:22 am
Forum: Harry Potter Talk
Replies: 2
Views: 604
Your right, since only Hermione took Ancient Runes there is very little about it in the books. When we did see them, they were almost always used just as an alphabet. I've done a little research on my own and found that originally they were used to write spells, as curses, or to empower thinks like ...
December 15th, 2016, 8:02 pm
Forum: Pottermore
Replies: 57
Views: 9224
Any information about the Ilvermorny Houses is welcomed because we know so little about them. So... according to MuggleNet, JK just twitted the following characte'rs Ilvermorny Houses: Tina Goldstein is a Thunderbird Queenie Goldstein is a Pukwudgie Jacob Kowalski, if he was a Wizard, would have bee...
October 13th, 2016, 6:21 pm
Forum: Pottermore
Topic: Wand Characteristics
Replies: 139
Views: 132928
Hi HogwartsStudent394 :) And welcome to PFF!!!!! I think you may be the first "Solid" I've seen. But isn't it great to be unique. My wand wood "Ash" is also very loyal, and I too am a Gryffindor. I think in the books loyal people are shown in all the houses, which is as it should...
October 13th, 2016, 5:31 am
Forum: Harry Potter Talk
Topic: choose your animagus
Replies: 83
Views: 12777
It's really interesting rereading this thread after the Pottermore Patronus test is finally out. I can see why so many people were disappointed. I would have hoped that I would be able to become a animal that could fly and at the same time be able to blend into Wizard society, so an Owl would have b...
October 10th, 2016, 1:58 pm
Forum: Pottermore
Replies: 97
Views: 10986
I just took this quiz which supposedly has all the possible questions on the Pottermore site, and it is not timed. Although, I'm happy with my Red Squirrel patronus, on this quiz I got a Sparrow Hawk patronus, which really thrilled me because I think that one of my real animal spirit guides is a Haw...
September 23rd, 2016, 8:17 am
Forum: Pottermore
Replies: 97
Views: 10986
my patronus is a Red Squirrel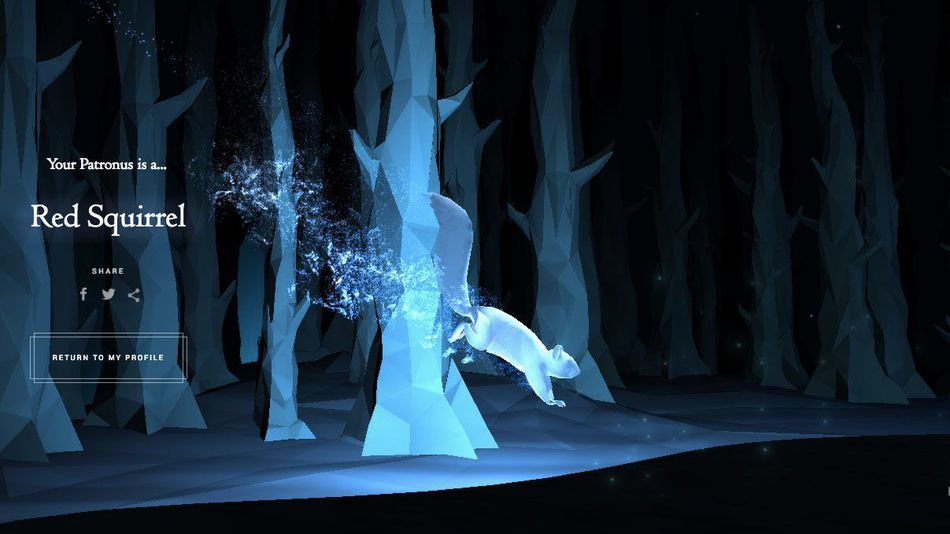 ---